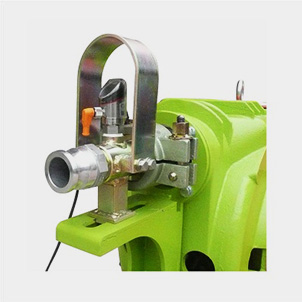 GP-M100 Pressure sensor
Features
Adjustable to various work site with pressure setting in unit of 0.1MPa.
Prevent damage in piping by 2 step output from "Warning" to "Stop".
Pressure Switch Joining Terminal
Locate easy-joint terminals to entire control panel for pressure switch control.
Possible to make a pump automatically stop at pressure rising by plugging or clogging in carrying hose,
 Easy to use.
Structure with preventing clogging and easy cleaning.
Unbreakable and insoluble with using Ceramic Diaphragm.
 Easy installation.
 After fastening the coupling joint, still easy location adjustment with 330 degree rotation.
 Easy carrying.
 4 types of selection according to usage.
Note) Some pumps are not able to install Wireless Remote Control and Pressure Sensor.
Note) If there is obstacle between Transmitter and Reception device, Pressure Sensor may not work properly.
Applications
Specification
| | |
| --- | --- |
| Model | GP-M100 |
| Pressure Range | 0~+1MPa |
| Pressure Resistance | 25MPa |
| Adaptive Fluid | Fluid not decompose wetted part of material |
| Power | Supply from Pumping machine |
| Weight | 0.15kg |