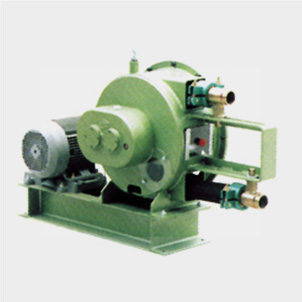 Peristaltic Tube Pump TS-7MTK without Control Panel
Features
Simple structure with sealless mechanism.
With simple structure without valve seal, there is no worries about liquid spill.
Outstanding suction power
Max. degree of vacuum is 986hPa、suction is able to lift water column to 9.5m high.
Powerful Pumping Performance:
Max. discharge pressure is 25kgf/C㎡.
High Ability & Durability
Equipped with Normal & Reverse Mode.
After pumping in normal rotation, reverse mode helps collect residual liquid.
Easy maintenance
Easy to exchange a tube and cleaning and sponge can take care of in-pipe cleaning of the pump.
Wide range applications
Highly viscous liquid………………………………… Possible to 50,000cPs
Solid, highly concentration slurry/sludge… Possible to compress and transport to a quarter of tube diameter
Liquid containg fibers………………………Possible to transport a long fiber without widing
Soft stuff…………………………Possible to transport tangerine grains without crushing
Operative with air suck-in liguid…………………………Possbile to operate the liquid sucking in with air
Easy cleaning of Pipe Inside.
Cleaning of pipe inside requires only sponges.
Attachable the detection device for tube breakage
The detection device for tube breakage is optional.Note: 3 rollers is optional
Applications
Alkaline solution, acid, sodium hydroxide, soap solution, ink, paint, pigments or dyes, all sorts of pastes, polishing liquid, latex, adhesive bond, alcohol, acetic acid, bicarbonate, PAC, polymer coagulant, hydrated lime, slurry plating liquid, all sorts of emulsion
Japanese Miso, mash (unrefined sake), sea weed, sausage, internal organs, soy sauce, konjak, cut vegetable, juice with grains, mince, leftover, salt water, cream, sugar liquid, pickle sauce, pet foods, cyanobacterial soil, and etc.
Livestock excretion, fishery processing waste water, food wastewater sludge, powdered activated carbon and ion exchange resin, and etc.
Building and construction
Fresh concrete, mortar, cement milk, clay, bentonite, plaster slurry, ore slurry, ceramics slurry, construction paint, bottom sludge, and etc.
Pulp chips, waste paper, papermaking sludge, fiber sludge, metal slurry
Note 1) Please contact us if you want to use the pump for food manufacturing process.
Note 2) We can design and build a machine for your special need.
Specification
| | |
| --- | --- |
| Model | TS-7MTK |
| Discharge | 50L/min. |
| Power supply | 5.5kw |
| Voltage | Three phase * |
| Pumping tube | Dia.50×L1400 |
| Dimension | W520×L1320×H751mm |
| Weight | 270kg |
* Voltages can be converted for the condition in your country